Kyushu Trip
2004 / August: Last June I went by bicylce from Yokohama to Osaka. Now I was going to finish what I had started earlier: With bycicle from Osaka down to the south coast of Kyushu - Japan's second most populated island. This being my longest trip so far (in before hand I figured it to be about 1000 km) and also my first trip in the full heat of Japanese summer (last year's August ride doesn't count as the summer was uncharacteristically cool), I didn't know how long it would take me. However 2 weeks of vacation gave me enough buffer even under the worst imaginable conditions.
In the end it took me 5 and a half day to cross the 996 km (yes, 4 more lousy km and I would have cracked the magic number, arghhh). This is the report of how it went.
Click to see the exact path of my trip
Note: Also the following pictures are only thumbnails. Click on the them to see the full-size picture.
Day 1 (Saturday, 2004-08-21)
| | |
| --- | --- |
| Distance: | 65 km |
| Start (of riding): | 02:40pm |
| Stop: | 06:50pm |
| Average speed: | 23 km / hour |
| Riding time: | 2 hours 49 minutes |
Day 1, Kilometer 50: Bridge to Awajishima Island near Kobe
Quoting the start time as 02:40pm is not quite correct. Actually I got up at 04:00am to catch my train leaving from Yokohama station at 05:23. I finally arrived in Osaka at 02:15pm. As all Japanese trains are equipped with powerful air-conditioning, I was frozen solid by the time I got out. (Trusting on this years very hot summer I didn't even have long clothes with me).
By 02:40pm JST I had unpacked by bicylcle, mounted the luggage rack and secured my small second bag on the same and was ready to start. After careful studying of my map (I didn't want to get lost again in Osaka) I started off 180 degree in the wrong direction. Fortunately after half a kilometer a road sign set my head straight and I was really on my way.
The day was hot (max of 32 degree), but thankfully most of the time very cloudy. Anyway I was still fresh and highly motivated so I made good speed.
I was surprised that when passing through Kobe I could not see a single sign of 1995's devasting earth quake. Kobe just looked like any other Japanese city.
To set my camp up I strayed 3.5 km from my way towards a park but I thought, the opportunity to clean up was wort it (it was). Only drawback were the clouds of moskitos that were attacking me. For the opportunity to wash the sweat from my skin I was willing to pay with moskito bites but otherwise I escaped into my moskito tent as quickly as possible - ate even my dinner in the same.
Day 2 (Sunday)
| | |
| --- | --- |
| Distance: | 217 km (new all time record for me!) |
| Start: | 06:10am |
| Stop: | 07:20pm |
| Average speed: | 24.8 km / hour (also a new personal record) |
| Riding time: | 8 hours 45 minutes |
In the morning I was greated with a rain shower but I was anyway ready to get up by that time. Temperature in the morning was still 25 degree - that's what I love about the Japanese summer. Later during the day I was longing for a rain shower as this time - again with a maximum temperature of 32 degree - the sun was burning down on me mercilessly. At about noon I got overheated or something as I suddenly felt totally worn out and my speed went down. I got immediately off the road and after eating lunch and drinking lots of water and milk (on bicylce tours my most favourite drink after water) I was fine again.
In this part of the country there were a lot of city bypasses. What I hated about them were the sound barriers being set immediately next to the road without side-strip. The lorry's were almost driving my ass off. The cream on the cake where the bypasses with sunken-in manhole covers. Having no choice but to ride straight through I could just pray that my tires were holding up. Sure enough one city later I got myself a flat tire and had to walk half a kilometer just to find a place to fix it.
As luck wanted it, it was the rear tire. But having "developed" a technique to exchange the tube without having to take out the complete tire (and the related messing around with the oily chain) I was on the road again within 15 minutes.
Just a perfect place for a flat tire...
As usual I haven't had any plans to set a new day distance record but simply couldn't find a proper resting place. First a thunderstorm went down on me and I rode on to find a dryer area. Later on there was literally no space. The road went directly along the coast line, on my left the sea and on my righ rocks raising up. No choice but to go on. As luck wanted it the first road going of to the left lead to a sport stadium and I took it of course. Only hair in soup was the entrance to the washroom being covered by very inhabited cob webs. But I wanted, no needed to clean up myself and my clothes, especially my shirt and crouched through with closed eyes.
Day 3 (Monday)
| | |
| --- | --- |
| Distance: | 171 km |
| Start: | 06:35am |
| Stop: | 06:15pm |
| Average speed: | 23.7 km / hour |
| Riding time: | 7 hours 12 minutes |
Man, this day fell into the water. Started out with rain in the morning, varying from light to very heavy. Continued with thunderstorms in the afternoon. At the few times it didn't rain, the temperature reached 30 degree. However during the long periods of raid - me being soaked through - I felt cold.
Especially in the morning there were quite some mountains and passes to overcome. Shortly after crossing one of the more harder ones I passed a shrine fitted into the mountainside along the road. So beautiful that it actually made me stop and take a stroll around. Personally I found this mountainside shrine more beautiful than any of the temples I had seen in Kyoto.
temple in the montains
Towards evening I resigned myself to sleeping in my BIWAK sack - as it was still raining and according to my map I had just passed the last settlement before a longer montain pass. But then a pick-up stopped and the driver invited me to his home. Turned out that Usui-san was an electro shop owner who had seen me already 230 km in the back on the previous day. He told me, his house was 20 km in the back but I happily agreed. Quite a change in hospitality to Osaka station, where 2 of my attempts to get somebody to take a start picture of me failed. This way I came to shower, a nice dinner with Usui-san and his family and one night of sleep without camping (in the rain). From the dinner conversation - Usui-san spoke very good English - I still remember best me telling him that I started in Osaka and planned to go by bicycle to south Kyushu. Usui-san asked me what I wanted to do in south Kyushu. When I answered "nothing", he started to lough.
Day 4 (Tuesday)
| | |
| --- | --- |
| Distance: | 195 km |
| Start: | 06:00am |
| Stop: | 07:40pm |
| Average speed: | 23 km / hour |
| Riding time: | 8 hours 28 minutes |
After a good night of sleep - thanking and saying goodbye to my host - I started the day's ride rather early. Found out that I had only to travel 11 km to get to the spot where I stopped yesterday. Off I went into the pending mountain pass and other passes following it. Most passes were rather low but there were many of them. Memorable was a 1.8 km long tunnel along the way - air even hotter than outside, very dusty, dry and exhaust-fume rich. And at this length also equipped with huge vans shuffling the air around and being as loud as aircraft turbines.
Quite exactly at noon and 100 km into the day Kyushu came in sight. Originally I had planned to set over in style using the ferry, however I couldn't find the ferry port and resigned myself to take the railway (going through a tunnel under the sea). Meant that for the 10 minute train ride I had to dismantle the luggage rack and put the bicycle into the bicycle back again but this could not be helped. Note that the bridge on the photo as well as an additional road tunnel were as usual not permitting bicylcles. After about one and a half hour I found myself on Kyushu and ready to go again.
Kyushu in sight!
The photo is by the way giving the wrong impression. While it was cloudy and partly even drizzling near the south tip of Honshu / north tip of Kyushu, the rest of the day was hot and sunny.
Continuing in Kyushu I managed to reach and pass through Fukuoka - which was badly suffering from traffic jams and stopped for the day in Daizafu. There again finding a park and thus having a possibility to clean myself up.
Day 5 (Wednesday)
| | |
| --- | --- |
| Distance: | 183 km |
| Start: | 06:20am |
| Stop: | 06:20pm |
| Average speed: | 23.7 km / hour |
| Riding time: | 7 hours 43 minutes |
This day was standing under one big motto: HEAT! On purpose I had scheduled my tour to southern Japan into August and this was finally the day were I got the heat I wanted to experience. To be truthful maybe even a little bit more than that.
While the maximum temperature was again was only 32 degree, on this day there was not a single cloud in the sky and the sun was burning holes in me. I later on checked in the internet and found that the humidity was rather high with over 60 percent and the felt temparature was quoted as 39 degree. I still remember this one endless road going thorugh a wide valley - it felt like in some desert, the heat almost surreal. The hammer came on whenever I had to stop for red traffic lights. Without the wind caused by my own riding it was like somebody had switched on the microwave oven - even more so when the heat was also reflected from nearby buildings. I was continously dripping from sweat and boy, I was drinking unbelievable amounts. Suntory sure must have had a sales hike along my way.
By about 4 o'clock it finally started getting cooler again or at least the the sun wasn't standing as high anymore. I also had reached the coast again and I must say, that Kyushu really has some nice places.
At 06:20pm - just having crossed the hardest mountain pass of the day - I could again find a sport park to set up my night camp.
Could even get myself some sort of shower and happily paid for the same with a bunch of moskito bites - the large numbers of moskitos the only drawback of the place.
day 5: camp at sport park (with nice scenery)
Day 6 (Thursday)
| | |
| --- | --- |
| Distance: | 165 km |
| Start: | 06:10am |
| Stop: | 04:30pm |
| Average speed: | 24.1 km / hour |
| Riding time: | 6 hours 50 minutes |
Particularly because of my many bicycle tours I have by now become rather indifferent towards moskito bites. After all the bites don't hurt and as long as one doesn't scratch, also don't itch (and it's hard to scratch your back while your riding on your bicycle). However this morning I was attacked by a whole swarm of moskitos and this was clearly to much. Kinda shitty way to start a day of bicylcing if one has constantly to run around while trying to pack the stuff together. Anyway by 06:10am - because of the moskitos later then planned - I was on my ways. I figured that with hard riding I would have a chance to reach still on this day my final destination.
The morning started out nicely - however I could already see that the weather would get as hot yesterday. The coast line along south-west Kyushu was an almost "dreamy" piece of landscape. All the planted palm trees and the blue sea created some kind of "tropical island" atmosphere.
coast line along south-west Kyushu
In the late morning I left the coast line though and had to ride a few hard passes in order to cross over to Kagoshima. I reached Kagoshima about 01:00pm. Temperatures by now had reached 33 degree and the sun was beating down mercilessly. With only 50 or 60 km left I knew however that I would make it today to my final destination. Was actually hoping that the rest of the trip would be a piece of cake as the route went directly along the sea and my map didn't show any mountains. But boy was I wrong! The last kilometers were hell. First actually there were a lot of small but steep climbs along the way. But what really bothered me was the strong wind blowing into my face. Looking back and comparing this with my other trips - the last kilometers always seem the hardest - I am not so sure if not also my mental condition is partly responsible for the felt exhaustion. Be it as it is, by 4 o'clock and with my last reserves I finally reached Ibusuki - as last major city along the train line - my final destination.
Funnily about 5 km before reaching the railway station a policement stopped me and told me that bicycle are not allowed to do right turns on the street but had to use the pedestrian's crossing. (By now I guess I have made in all my years in Japan thousands of right turns without bothering anyone). Luckily the last kilometers to the station I only had to go straight and wasn't forced to defy the police man.
day 6, 04:30pm: I reached my final destination
This time I managed to keep track of how much I was drinking - by 04:30pm I had already drunk 4 l.
A word to Ibusuki - It was clearly oriented to be a tourist town but considering the many closed hotels a failed attempt on this. As the city didn't have any beach and the area was all in all rather boring, I rather would spend my vacation along the south-west coast of Kyushu with it's truly scenic landscape.
Only thing left to do was to find myself a hotel. The first one encountered claimed to be the training camp for the French national foodball team, so I went on figuring this one might be a bit expensive. The second open hotel I took - with 4500 yen per night quite cheap.
Being in the hotel I also had my first opportunity in days to look at myself in the mirror with two major findings:
I was dirty. I had already observed on my arms that street dust and sun protection mixed up to a viscous substance. But on my face, oh my... it was a whole lot worse. I was surprised that personnel in the convenience stores didn't run away screaming when I entered.
The contrast between sun-tanned exposed skin and the white skin under my clothes was quite stunning. Especially my legs - with feet and upper part absolutely white and the middle as tanned as it gets I was looking somewhat "Frankenstein style" - like if parts of by body got transplanted from somebody else.
I was quite pissed when I found out that the shower in my hotel room was not working. However I was consoled by finding out that each floor of the hotel had some kind of mini-onsen. I could look directly at the sea and there was a heavenly air draft from the open windows to some kind of air outlet.
(Of course I entered the pool only after thoroughly cleaning myself up in nearby showers.)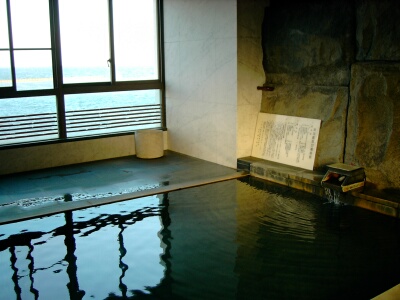 mini-onsen in hotel (with look at the sea)
I was shortly considering to stay a few days to explore the surrounding area. For one I was totally exhausted though and temporarily fed up of bicycling. Additionally a bad taifun was approaching and I didn't want to risk getting stuck in Ibusuki. Thus I decided to go back to Tokyo the very next day.
Day 7 & 8 (Friday & Saturday)
Not much to say about these 2 days. No riding (per bicyle), only endless train transport.
The first day started with the hotel porter not showing up when I tried to check out at 05:00am. I could have left without paying at all (I actually warned the guy during check-in when I would have to check out). Being as it was I could only pay 4250 instead of the agreed 4500 Yen as I didn't have enough change. Left the money on the desk and if somebody else took it then the hotel absolutely deserved it.
On the train ride I was so bored out of mind that I actually started reading all Hiranga characters I could find. Note, that while I could read the characters but I didn't know the word's meanings but still kept at it...
About 06:00pm, shortly before arriving in Hiroshima, a fellow (English-speaking) traveller told me that because of a special vacation time offer I could have done all my train rides till Yokohama for about 4500 Yen [instead of the about 20000 I paid for regualar tickets]. Shoganai. ("So is life" in Japanese).
In Hiroshima I stayed for the night in the hotel "Green Inn" (or something like this). Typical business hotel - very near to the station, very automated, very small room and the price with about 6000 Yen OK.
I continued my train ride the following morning starting at 06:00am. A longer talk to a Japanese lady with perfect English skills (which was picking up her daugther in Osaka) saved me from going totally oaf. In Kyoto station I could buy an English newspaper so the rest of the day wasn't so bad either.
Finally reached my appartment at 11:00pm - fired my backpack into the corner and left the unpacking for the next day.
I am not quite sure yet but I guess that I am finished with my long bicycle tours through Japan. Either next year I ride somewhere else (Australia?) or I do some longer hiking tours. Of course I might also finally do an USA trip. But for some reasons also to me totally unknown I seem to prefer spending my vacation tormenting myself and testing out my limits.
Page last modified: 2004-09-26