Osaka Trip
2004 / June: Finally the time for my next bicycle trip has come. Destination: Osaka - second largest city of Japan, located in the southwest of Tokyo. Distance: per train 530 km, however streets are not cut as straight as Shinkansen trails, so with bicycle I calculated 600 km.
Click to see the exact path of my trip
Note: Also the following pictures are only thumbnails. Click on the them to see the full-size picture.
Day 1 (Saturday, 2004-06-19)
| | |
| --- | --- |
| Distance: | 200 km |
| Start: | 04:10am |
| Stop: | 07:00pm |
| Average speed: | 20.1 km / hour |
| Riding time: | 9 hours 57 minutes |
04:00am in front of my appartment house

Weather:
dry and sunny, especially along the coast head wind (ugh...)
Hardest challenge:
Crossing the Hakone pass with a maximum height of 824 m. Basically one long climb from sea level up to 800 m. Hit my limits.

To save my strenght for the coming days - I learned this the hard way during last June's crossing of the Japanese Alps - I walked the steepest parts (which didn't make for a heroic sight though...).
Fortunately the Hakone pass was the only spot of the tour where I was not able to ride my bicylcle up the mountains.
Remarkable:
Often the road went right along the shoreline. Because of the wind and huge waves (I saw a lot of survers on this day), I was actually hit by sea spray - nice cooling system...
Ugly:
Some of the industrial cities around Fuji actually stank to the sky of various kinds of chemical substances.
I was travelling large distances on National Highway number 1 - with lots of traffic, often one lorry after the other.
Camp:
I wanted to make the 200 km so I was riding longer than I actually had planned. Stopped finally in - if I remember correctly - Yoshida. I got really lucky, their sports park offers water, toilet and even a shelter. Which enabled me

(a) to clean myself up

(b) to protect myself from the rain that fell during the night.
The night:
I started the night with my sleeping back right on the lawn.
The local youths held a small party including fire-works. I anyway rested well.
Later on the gnats came out which I took a lot less well. Last time during my trip to Northern Japan these beasts basically ate me alive and turned every night into hell. This time I took my "self-supporting" mosquito net with me (see below photo) and within 5 minutes I could resume my sleep again.
Some time in the early morning it started raining and I had to move my sleeping place under the shelter.

For the curious:

The "self-supporting" mosquito net - a rather unusal device - consists basically out of a net plus 2 attached plastic rings for the support. Can be constructed and packed within 1 minute, weights less then 400 g and by twisting the plastic rings into themselves takes only 36 x 5 cm packing space. Really an invention with knoff-hoff!
End of first day: exhaused but happy to be 200 km nearer to Osaka
Note: If you look exactly, you can see in the background Mt. Fuji.
My "camp" (photo taken the following morning)

Day 2 (Sunday)
| | |
| --- | --- |
| Distance: | 209 km |
| Start: | 05:30am |
| Stop: | 08:30pm |
| Average speed: | 21.9 km / hour |
| Riding time: | 9 hours 33 minutes |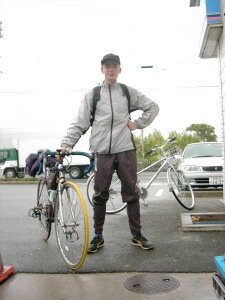 Me in my rain gear
Weather:
cloudy, in the morning heavy rain; winds (most of the time in the back - yeah!, towards evening getting stronger)
Hardest Challenge:
Getting my overworked leg muscles to ride again
Remarkable:
Pacific with high waves. Actually I would like to have taken a small swim but the waves were so high, I'd never have gone in. Again sea spray as additional cooling system.
Camp:
Actually I didn't have any plans to set a new personal "day distance" record. Instead I was desparately looking for a camping spot with water supply so that I could clean myself up. In the end - it was already totally dark - I had to give in, settling for a place under a bride somewhere near Yokkaichi.
The night:
The wind was getting stronger and stronger plus it rained. When at some time in the night the rain started going to get horizontal, I had to move my sleeping space to the other side of the bridge to stay dry.
At some time in the night it also got clear to me, that this were probably the beginnings of a Taifun. Which made me worry if I should relocate to a safer location. But in the end exhaustion prevailed and I stayed where I was. Turned out to be the correct choice, as the peak of the Taifun was only reached noon the following day.

Sleeping under a bridge
Day 3 (Monday)
| | |
| --- | --- |
| Distance: | about 150 km (my bike computer broke down during the Taifun, I had to reset it, partly guessing the distance travelled) |
| Start: | 06:00am |
| Stop: | 07:55pm |
| Average speed: | unknown |
| Riding time: | unknow |
Weather:
Taifun! In the morning only strong wind. At about 11:00am this has turned into storm and heavy rain. The Taifun passed at 02:00pm. After that mostly try and occasionally even sunny.
Hardest Challenge:
I noticed, that on every tour there is a disctinctive low point. Here I knew immediatly that I had reached it. While I am every morning stiff, this time all my muscles were sour, I was feeling cold (while temperatures were not below 20 degrees), every pothole on the street hurt on wrist and backside.

After a few hours, strangly when I had started riding up steep mountains again I got out of it. Here I got also my chance on cleaning myself up - it was raining cats and dogs again, no sign of civilization (besides the street and some railway tracks). I just had to get off the street and out of the cloths and ready was my "open sky" shower. Afterwards I was cold but also very refreshed.

One of the most beautiful place during the tour
(here is also were I took my "shower")
Remarkable:
Riding in a Taifun:
After going over the first mountain pass this day, it was maybe 10:00am - the Taifun fully reached me, blowing from my left and back. Having no strength left to waste I took the opportunity and rode on. Was quite an experience - I was was virtually blown up the rises. On the other side, when gusts of wind were hitting me from the side, it was hard to simply stay on the road. Fortunately only few cars were on the street and those that were only passed with maximum safety distance.
Looking back, it was for sure a fascinating experience, but the next Taifun I will wait out completely.
My own stupidness
At about 11:15am - I just had reached the city of Ueno - the wind seemed to have turned and was coming from straight ahead. Even on totally flat area no riding was possible. I had to walk with my bicycle to the next convenience store and waited the rest of the storm out from there.

Waiting out the Taifun.
(Picture doesn't really capture the force of the storm)

After the storm passed at 02:00pm I continued my trip by attacking the next mountain pass.

After the Taifun, next mountains in view.

Again the scenery was very beautiful, in fact it reminded me of my first moutain pass this morning. Anyway I worked my way over it and then however got very nervous - the area didn't really match my road map. However I checked again and again and I was on the right way (National Highway 163) so I rode on. Finally, seeing a street sign pointing out a nearby city that I had only crossed the day before!!! I realized that I was again at the same side of the mountains from which I had started in the morning, only slightly more in the south.

Oh nooo, I just crossed the same mountains twice!

I couldn't believe it. I spent the whole morning crossing with uttermost efforts a steep mountain pass - fighting against cold, rain and storm. Then I had to kill senselessly 2.5 hours in a conveninience wrongly assuming that the storm changed direction by 180 degrees. Then climbed the same mountains basically on my gums for a second time. And now (I started kicking my feet and exercising my vocabulary of expletives) I had to cross the same damned moutains for a THIRD time. On top of that while I had thought myself already to be half in Osaka, now I wasn't so sure anymore if I could reach my destination in time at all. The possible embarassement of having to come back without reaching my objective was driving me up the wall.

While checking my location, I also reconstructed exactly what had happened. In the morning during the taifun and heavy rain my road map dissolved into several parts. Especially it ripped in two right through Ueno, the city where I would have to change from National Highway 25 to National Highway 163. Now anyway by the time I reached Ueno, I didn't need the "western half" of the dissolving road map anymore. Being exhausted from passing the mountains, wet and cold up to my bones (my rain gear couldn't really stop the Taifun driven rain and couldn't blame it for that) I didn't bother anymore to get this part of the map out of my backpack. Subsequently from looking only at the "eastern half" of the road map, I got the impression that National Highway 163 actually starts in Ueno. Thus when I suddenly found myself on highway 163, I didn't question my "luck" and just rode on. Now you guessed it probably already, highway 163 did not start in Ueno. It went straight from one side of the peninsula to the other and I ended up following it in the wrong direction.
Really an endless string of impossible circumstances and I was paying hell for it!

By the time I had all this pieced together it was already 06:00pm but as mentioned above, I was anxious of not making it to Osaka and rode on to my third mountain pass this day.
Camp:
Shortly before 08:00pm - by then I had reached the mountains agains but not yet started into the really hard parts - I was too exhausted to ride on. I also was too exhausted for being picky about my sleeping place and simply dropped down beside the rode right where I just happened to be.

Just dropped down besides the road...
The night:
Not much to say, only that - maybe due to my exhaustion - I had the best sleep of the whole trip.
The following morning I had a superb mountain sun rise (didn't make photos of the same though).

Day 4 (Tuesday)
| | |
| --- | --- |
| Distance: | 128 km |
| Start: | 04:50am |
| Stop: | 03:00pm |
| Average speed: | 19.1 km / hour |
| Riding time: | 6 hours 42minutes |
Weather: dry, sunny, hot
Remarkable:
Getting up early I strangely felt only slightly stiff and all in all suprisingly recovered. By 07:00pm I had finally crossed the mountain range for the third time and after a small turn towards north was back in Ueno. This time I took care to start the National Highway 163 in the correct direction. The following mountain range consisted of a rather large number of smaller rises and declines, in the end a lot easier to mount than the last mountains (the ones I passed three times...). Anyway after being over the pass, I kept riding like somebody possessed (of fear not reaching Osaka) downwards along the Kizugawa River.
The Reward: at about 10:00am I reached Kizu and saw my first direct sign giving the distance to Osaka. Less then 60 km away which meant I would make it to Osaska without any trouble!
Hardest Challenges:
Relatively shortly before Osaka the area was getting more mountainous again. Apparantly my road - going west - crossed a number of valleys going from north to south. Unfortunately that's exactly what I had to do, too. The road didn't have any bents - so the rises were short but brutal. It didn't help that the road, while narrow, now carried lorry after lorry travelling to Osaka and that there was nothing next to the road, no sidewalks, nothing. So even while I would have walked my bicycle the worst parts, I had no choice but to ride it.
After a number of "valley crossings" - back to my gums by then - I unexpectedly got into a very scary, 1 km long tunnel. Getting out of the same, the promised land revealed itself: Osaka

Finally: Osaka in sight - and what a sight!

Where is Osaka Station?
I didn't have any city plans of Osaka with me. After all I only wanted to get to the central railway station. But hmmpf, no street sign pointing to it. So with temperatures of now 30 degrees I spent about 3 hours cruising through Osaka's streets trying to find this stupid station. Only after finally buying a street map, I managed to find it - by now with a black covering of dust and soot. Trip over, I finally made it!

Mission accomplished. Total of 690 km travelled.
Happy for having made it (and for it being over...)
Camp:
The following day I would go back to Yokohama by train, thus this time I was looking for a hotel so that I could clean myself up properly.
Found one only a few meters away from Osaka Station. A self sign-in hotel called "Second Inn" or something, with 5800 yen surprisingly cheap.
The room was tiny and had the charm of an office cubicle, but it also had a roof and a shower, and that's what I was looking for. The sight out of the window was impressive, though.

View from hotel room.
Day 5 (Wednesday)
No riding on this day. My train left Osaka at 05:00pm. 10 hours later I arrived in Yokohama. Shinkansen would have taken only 3 hours but I doesn't allow bicylcle transport. Anyway the various trains were rather empty so I could sit all the time and slept through more than half of the trip. It felt quite satisfyingly to occasionally recognize roads I had crossed in the days before on my bicyle.
Bicycle in bicylcle bag in train.
Page last modified: 2004-06-30